Events
6th Škerlj's Days — International Anthropological Conference
Hard Reality of Dream Society: Uses of Anthropology in Contemporary World
Ljubljana, Slovenia, 23—26 September 2010
Attention
The deadline for submission of abstracts has been prolonged until August 20, 2010 and early registration until August 30.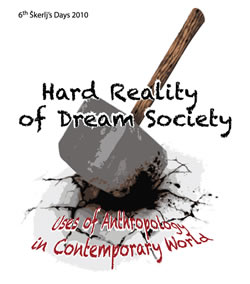 Contemporary world is characterised by consumption and information technology, but it seems that consumption and information society is in crisis and tries to find alternative ways of living. Some authors are predicting the transformation of consumption society into dream society in which material wealth is going to be replaced by emotional wealth. Such utopian predictions are, nevertheless, challenged by the real life experience of contemporary people. Our reality is, namely, often different from our perceptions of progress on various segments of society and this conference intends to focus on such discrepancies.

Although multiculturality, intercultural and crosscultural communication is constantly emphasised on the institutional level, we can observe growing tensions between members of different cultures and especially between the inhabitants of developed countries and immigrants from less developed ones. Religious leaders are also emphasising tolerance in their public apperances yet the religious intolerance is growing into unimaginable proportions. We are bombarded by knowledge on health, healthy diet and physical activity yet obesity and related chronic illnesses are growing and worsening the quality of life. Also medicine constantly emphasises its new achievements and cures but it seems it is not fit or willing to control the epidemic or even pandemic outburst. When it comes to the environment we try to imagine ourselves as a green society which recycles, cleans and seeks alternative energy sources, yet we are not stopping the pollution and are trying to find new excuses to continue the old polluting practices. We are also certain we are improving our educational systems but at the same time the teachers in schools are facing the most difficult problems in the history of organised education, students are protesting against senseless reforms of higher education, and pupils are processing enormous amounts of useless information which numbs their creativity and self-initiative.

This is also the framework of the Slovene Anthropological Society's 6th Škerlj's Days – its traditional international conference – dedicated to the studying of contemporary problems and the role of anthropology in analysing and finding solutions of the challenges we are facing. We encourage schoolars and graduate students from the fields of cultural and social anthropology, physical anthropology, archeology and related fields of social sciences and humanities to join us in Ljubljana, Slovenia between September 23 and 26, 2010. The themes of the conference will focus mostly, but not exclusively, on:
· education
· religion
· nationalism
· environment
· food
· aging
· physical development
· human variation
· family and kinship
· gender relations
· sexuality
· technology
· science
· economy
· leisure
The conference will be held at the University of Ljubljana, Faculty of Sport. Deadline for the submission of proposals (abstracts or descriptions) is 10 July 2010, early registration until 15 July 2010.